Description
The rose filter cup is shaped like petals and superimposed layer by layer in the same direction to create diversions of different flow rates, thereby producing a variable speed effect, which increases the flavor during brewing.
The internal shape of the filter cup can have a good fit and exhaust with the filter paper, and the segmented diversion is more conducive to the retention of aroma and the extraction of flavor.
It can also take into account the layering and mellow feeling, which allows the brewer to add more brewing ideas and brewing fun.
In addition to brewing more aroma, bringing more beauty and brewing experience, it can also retain more flavor and thickness, and have a better visual experience.
HUA-Rose Dripper V01 is a rose-shaped coffee hand-brewing filter cup designed by Zhizao after two years of research and development. It is derived from the Chinese "flower" pronunciation "HUA"
H-Harmony Harmony
U-Unforgetable Unforgettable / Unique
A-Aroma aroma / Aftertaste lingering rhythm Through the special flower-shaped filter cup brewing experience, users can brew a harmonious, unforgettable, unique aroma and lingering coffee rose shape, which can be enjoyed by both brewers and viewers It is not only fragrant during brewing, but also pleasing to the eye and visually fragrant in static display. We hope that HUA, like a rose, will bring floral fragrance to every user. Everyone can enjoy the beauty of brewing coffee for a moment.

Use filter paper: suitable for V01 filter paper on the market (1-2 people cone filter paper)
Accessories: Each filter cup includes a solid wood cup holder and a silicone protective ring Specifications: 14cm * 12.5cm * 11cm
Please wash: Do not use dishwasher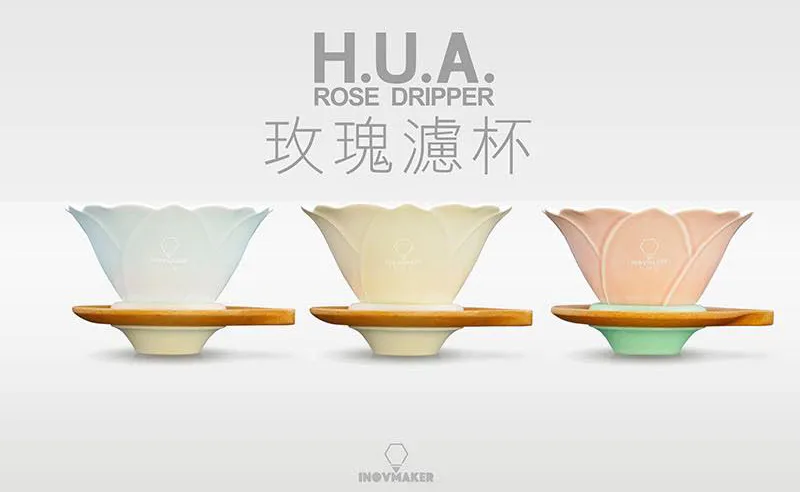 [現貨|全港免運]Inovmaker - H.U.A 玫瑰濾杯|H.U.A. Dripper V01|花濾杯
Let customers speak for us